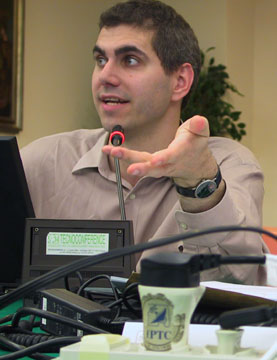 Chairing a SportsML session
at a recent IPTC meeting.
Information, Please
Alan Karben has been a mediaholic since he published his first scoop in his high school newspaper. (He discovered that a commercial filmed in one of the science classes -- billed as being for a healthcare product -- was actually for the Today Contraceptive Sponge.)
Alan has also long had a passion for science and technology, and is grateful that the Web started coming into bloom just as he was choosing his career path.
After college and graduate school years filled with projects on the technical, editorial, economic, and public policy angles of the information industries, Alan joined Dow Jones as a founding member of The Wall Street Journal Online. Six years at WSJ.com was followed by three and a half at information application developer Pinnacor (formerly ScreamingMedia).
While pioneering the use of XML (originally SGML) at Dow Jones, the Journal, and Pinnacor, Alan has been very active in the IPTC, an association of leading global media companies charged with building standards for the exchange of content amongst publishers. Alan was an original committee chairman of NewsML, and currently serves as chairman of the News Industry Text Format (the most widely used XML news vocabulary) and SportsML, the recently launched standard for sports data.
Alan has now joined several associates to form a boutique content-processing technology firm called XML Team Solutions.
The mission of XML Team Solutions is to help publishers of sports data take advantage of XML standards in order to raise the quality of dynamic data applications offered online, and lower their development and maintenance costs.
Alan and his family live in New York City. More information on his past and present is available online.